Garden_tool
,
weedwhacker
,
Gardening can do wonders for your health, but if you don?t take care and stretch your body before spending time crouching, bending, and pulling weeds, you can become very stiff, sore, or injure yourself badly. These simple stretches for gardeners are easy and gentle for every body. Spend just a few minutes doing these before you head into the garden and you?ll feel a world of difference.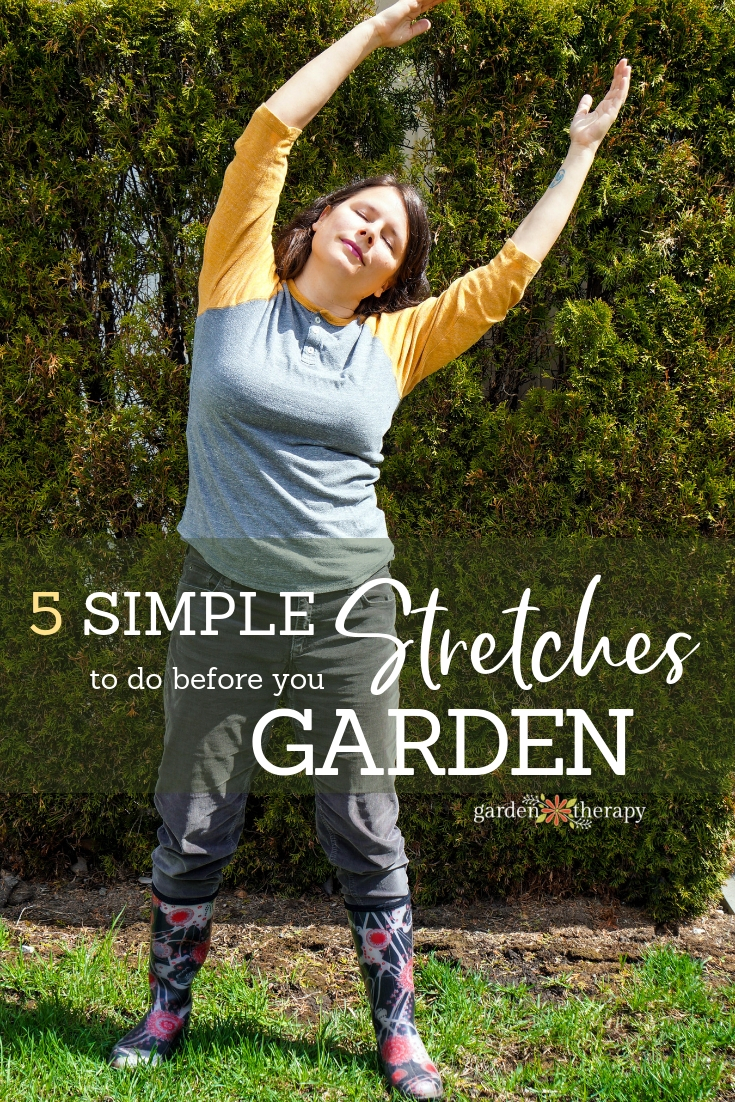 5 Simple Stretches to Get You Ready to Garden
By Kristy Ware
I cannot think of a better way to jump into than with grace, ease, and less aches and pains. Whether you are a hobbyist or an avid gardener, taking a few minutes to elongate your muscles, bring blood flow to your body, and life to your limbs will go a long way to easing the dreaded achy muscles that can accompany time spent playing in the soil.
If you have been hibernating all winter long and then launch into a full day of raking, digging, planting, lifting, and general garden fun, you could end up quite sore the next day as well as discouraged about gardening.
Instead, why not try to break up the gardening tasks into smaller chunks that you can complete over a few days? Start with just five minutes of stretching before you dive in in order to help your body prepare and recover. Your body will adjust to this seasonal activity more easily and you will get a little garden therapy each day.
It can be very easy to incorporate movement into your pre-gardening routine to help you feel your best while doing what you love most. So, go get your gardening clothes on, head outside, and try these stretches before you dig in!
Here are five simple and effective stretches to prepare your body for gardening:
1. Tall Like A Tree
Helps to improve: length of the muscles in your back, elongation of your spine.
Stand with your feet shoulder width apart. Reach your arms above your head as far as you can while keeping arms shoulder width apart. Imagine that your body is a tree and you are reaching your branches as high as you possibly can. Now, very slowly sway your arms to the left while keeping your lower body in a stationary position, hold there for five seconds and then sway your body to the right and repeat. Think of yourself as a tall tree with branches blowing in the wind. Stretch five times each way and enjoy the elongation through your muscles.
2. Touch The Earth
Helps to improve: length of the muscles in the back of your legs and low back.
Stand with your feet shoulder width apart. Slowly roll your body forward, walking your hands down the front of your legs towards the earth below. Your legs should have a slight bend at the knee and the goal here is to reach all the way to the ground, touching the soil beneath your feet. If your muscles are too tight just yet and touching the ground is not doable, don?t worry, with practice you will be able to stretch further and further. Once you find your comfortable position (one where you feel a stretch in the back of your legs but do not have pain), you can hold there for 20-30 seconds before walking your hands back up and returning to your neutral stance.
3. Tumbleweed Your Shoulders
Helps to improve: range of motion and tightness in your shoulders.
Think of your shoulders as tumbleweeds rolling through a field. With your arms loosely at your sides, slowly rotate your one arm forward and one arm back, making a circular motion from the shoulder joint. Rotate your arms forward 10-15 times and and then back 10-15 times. Your shoulder joints should be loose and mobile.
4. Tight Like a Bud, Flourish Like a Flower
Helps to improve: spinal flexibility, warms up your body for strenuous movement.
Imagine your body is like the bud of a rose that slowly turns into a beautiful flower. Begin on all fours with shoulders in line with wrists and hips in line with knees. Begin by slowly tilting your pelvis toward the sky, rounding your back and tucking your head in (like a bud tucked in tightly). Slowly shift your pelvis downwards while at the same time lifting your head towards the sky like a flower opening to the light. Slowly rock back and forth 10-15 times between the bud and the flower position to loosen the muscles of your spine.
5. Find Your Deep Roots
Helps to improve: hip flexibility, tightness, and range of motion.
Like the roots of plants and trees, we too have certain positions that help anchor and support our bodies. Find your base of support by taking one large step forward. Allow your back foot to raise up off the ground, your hands go onto your hips and your eyes gaze up in front of you. Allow a long, slow stretch through the front of your rear leg. The front leg is your support and the back leg is where you should feel a gentle pull as the front of your hip area lengthens.
About the Author
Kristy Ware is a Core Rehab Specialist, Nutrition Coach, and Nature Enthusiast. She helps busy women regain their fitness and fabulousness. Kristy believes that true health is achieved through a holistic approach, by taking care of your mind, body, and soul.
She loves being outdoors and enjoys every season to the fullest by snowshoeing, skating, hiking, swimming, gardening, biking, and kayaking. A recovered ?gym rat,? her mission is to encourage women to regain their strength, love their bodies, and rewrite their old stories.
When she is not working, you can find her cooking up healthy food in the kitchen, out dancing with her wife, or playing Lego with, or without, her four-year-old son. She lives in beautiful British Columbia, Canada. Find more about Kristy on her .
Want Even More?
If you find these stretches helpful and would like to incorporate more stretching into your life and gardening routine, Kristy has created a detailed stretching guide that is available for free to our Garden Therapy readers, called You can get the it by joining Kristy?s . She sends out a biweekly e-newsletter and in it she shares health and wellness information for women that will help you live a happier and healthier lifestyle ~ body, mind and soul.
More Self-Care for Gardeners
, or landscaping using ornamental edibles, is all the rage this season, and I couldn?t be happier about it! Growing food is a wonderful way to feed yourself, your family, and your community. And with all of the beautiful edible plant varieties out there, you can look great doing it!
I?ve put together a DIY kit that has everything you need to grow your own edible garden that is as beautiful as it is delicious. You don?t need a vegetable garden to grow these edible plants ? they are so attractive you can grow them right in your flower beds or front yard!
These plants will help you grow the perfect potager, where vegetable gardens are so much more than just neat rows of carrots and lettuce. These are ornamental plants that look just as wonderful in the garden as they will on your plate.
I?ve chosen plants that are all beautiful but still produce a high yield of food, so you?ll need an easy way to harvest your bounty. That?s why I?ve included a Roo Apron in the kit.
The apron has a large carry pouch (hence the name Roo, as in kangaroo) for you to store your produce in as you harvest it. When you?re done, simply open up the chute at the bottom of the pouch to gently deposit your bounty. It is machine washable, has adjustable straps to ensure a comfortable fit, plus it is stylish and purple (which matches some of the veggies in the kit nicely)!
Here is a video where you can see the Roo in action:
Pretty cool, huh?
The seeds in this collection are all the most beautiful ornamental edibles with great flavors that I could find, and to make things even simpler, they are all direct sow seeds. That means you don?t have to fiddle with seed starting indoors?just plant these directly in the soil outside and watch them grow!

Here are the seeds that come in the Limited Edition Ornamental Edibles Kit and why I chose each one.
Double Red Sweet Corn
Every part of this plant is ornamental! The corn has brilliantly colored kernels in shades of red to purple on beautiful red stalks with red husks. It produces a high yield of delicious sweet corn early in the season!
Glass Gem Ornamental Corn
The name says it all, this variety is a gem! The iridescent shiny glass-like kernels will glisten in the fall sunshine. Its beautiful unique appearance makes for gorgeous fall table decor! The multi-colored kernels can be popped or ground into flour.
Rainbow Swiss Chard Blend
Eat your greens! And all your other colors. The beautiful mix of red, yellow, orange, pink, and white stems have dark green, multi-colored veined savoy leaves which will add depth and texture to your greens mix. These greens are delicious fresh or cooked. Harvest them at the tender baby stage or when they are mature. Grow them in containers or flowerbeds for a unique, vibrant display.
Purple Pod Bean
This one is a ton of fun because it changes color when you cook it! This pretty purple pod is essentially a green bean disguised in a violet hued skin. This shapeshifter reveals its neon green flesh when cooked. A vigorous climber, the plant reaches up to 6? with an attractive vine covered in purple flowers and rich violet-hued pods.
Speckled Lettuce
This buttery tasting heirloom lettuce has splashes of red on the leaves that give it an appealing look both in the garden and on your plate. Lettuce thrives in a container and this variety is so pretty that you might want a few planters full in a focal point on your deck or patio.
Santee Broccoli
Purple is all the rage this year, even in the veggie garden! This gorgeous purple sprouting broccoli makes a pretty border plant. The small heads bunch evenly and are the perfect size for cooking, dipping, and salads. Stalks have a sweet flavor, especially when the cold starts to set in.
Red Velvet Lettuce
You eat this lettuce with your eyes first, but your taste buds will reassure your choice with one bite! The vivid maroon-colored leaves have rich color and green tints toward the base of the head. Easy to grow and looks gorgeous interplanted with flowers!
46257d
,
51600b
,
d9a570
,
deb271
,
e2fffa
,
f865e2
,
Horizontal Bar
,
Home Sit-ups
,
sitemap